Convention Bureau
From bidding to hosting an international event, DIME works closely with the hosts of event supporting by various way.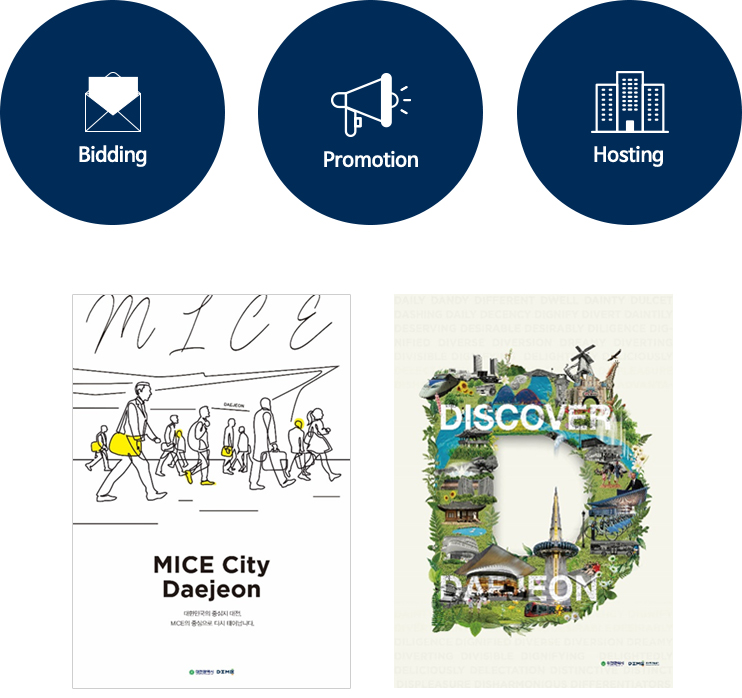 Convention Infrastructure;
The most Convenient Convention Complex You Can Imagine!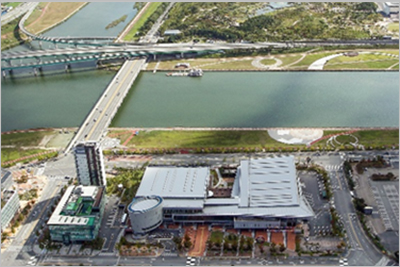 DCC is one of the most popular and conveniently located conference center in Korea. With a total area of 29,228m2, DCC is a venue that meets global standards. Equipped with state-of-the art facilities, it has 24 meeting rooms of different sizes, a grand ballroom, exhibition halls, and a conference hall. All the rooms are ergonomically designed, with the aim to provide the participants with utmost convenience and comfort. The staffs of DCC have world-class expertise and skills that will ensure the success of conferences. Moreover, DCC provides high-speed Wi-Fi service for the delegates.

Go to DDC Homepage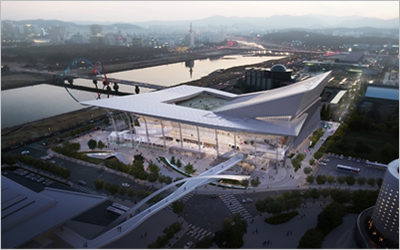 Daejeon International Exhibition-Convention Center completed in 2021 will be located in the Expo site next to the existing Daejeon Convention Center (DCC), connected by a second-floor level overpass. The center will have three stories above and two stories below, expected to double Daejeon's capability for large events with its 10,020m2 of indoor space. The indoor space consists of three exhibition halls and one multi-purposed hall. The colossal construct will also have a 20,600 m2 parking lot, restaurants, a casual cafeteria, and every resource necessary to host a world-class exhibition.
Science Complex
The Shinsegae Shopping Center at the 43-Story Science Complex (scheduled to open in 2021) is within 5-minute walking distance from the Congress venue. In addition, most of the city's premium department stores and traditional markets are located within 20-minute driving distance.
Accomodation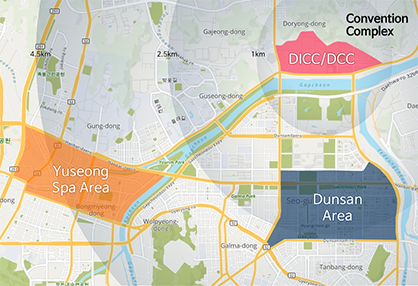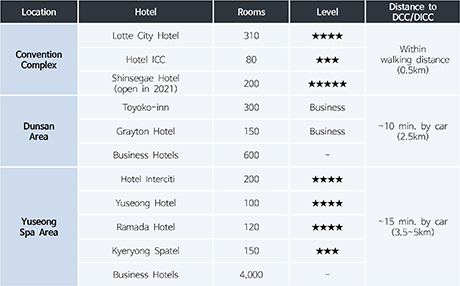 Travel and Transportation
The World's Best Airport : Incheon International Airport
Incheon International Airport (IIA) is the gate way to Korea and has been acknowledged as the "Best Airport in the World" by International Air Transport Association (IATA), Global Traveller and Skytrax. The airport connects Incheon (Seoul) to 188 cities in 59 countries and 90 international airlines provide more than 360,000 flights.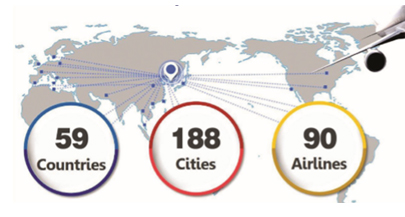 Countless Spots and Tour Programs
There are countless spots that you may want to visit while you are in Korea under the following theme categories.
Daejeon has improved the R&D capacity of Daedeok Innopolis by investing over 3 billion dollars over the last 35 years. Not only is Daejeon creating jobs and reviving it's economy by attracting and cultivating cutting-edge firms, but it is initiating a new growth engine to lead the future of Daejeon's economy.
Daejeon Cental Cultural Street was the mecca of the government administration, business and traditional culture in the central region from the 1960s to the 1980s. Now, it is emerging as an art and cultural street. About 150 art and culture-related shops and facilities are clustered around Skyroad. Skyroad is a large-scale arcade type of LED screen installed at Euneungjeongi Cultural Street. It shows various entertaining and popular contents by using the main screen and media hub. Also, In addition, there are many shopping places in Daejeon such as a Galleria department store, a Lotte department store, and a Shinsegae department store near Daejeon Convention Center.
· Baekje Historical Sites (UNESCO World Cultural Heritage) : This cultural site showcases the remains of three capital cities (Gongju, Buyeo, and Iksan) of the Baekje Kingdom (18 BCE to 660 CE)
· Gyeongju Historic Sites (UNESCO World Cultural Heritage) : This area is a remarkable concentration of spectacular Korean Buddhist art in the form of sculptures, reliefs, pagodas, and the remains of temples and palaces of the Silla Dynasty that lasted almost 1,000 years (57 BCE – 935 CE).
· Lake Daecheong represents a clear lake in harmony with its surrounding mountain. The driving course along the lake is perfect for taking in a beautiful lakeside view of the area.
· Donghaksa Temple is the first and the oldest existing academic institute for female monks. Home to about 150 monks who study and practice Buddhism, the temple is the most visited spot on all of Gyeryongsan Mountain due to its history and convenient location and visitor facilities. In the spring, many visitors come to the temple to see the cherry blossom tunnel, a 3km pathway from Bakjeongja three-way intersection to the Donghaksa Temple.
· Hanbat Arboretum is an artificial arboretum that is located in the city's downtown area. It is a great place with green in the city, a place for resting. The west part of the arboretum is comprised of 15 themed arboretums including the garden of senses, the westland garden and wild life garden; the east part is comprised of 19 themed arboretums including the magnolia garden, the herb garden, the rock garden and the fruit tree garden.
· Geumsan is famous for ginseng since late Goryeo Dynasty and nowaday it also has one of the biggest market of ginseng and medicinal herbs in Korea. It produces more than 80% of ginseng distributed across South Korea.
· Yuseong is famous for hot springs. According to legends, wounded soldiers of Baekje Dynasty were healed after taking a bath here. Many kings and presidents including the first King of Josun Dynasty, Lee Seongge stayed here for their vacation.